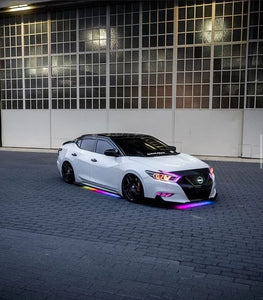 Submitted your sponsorship application and now you're here to get your box?

This is the place to be! Check out this sponsorship box!

Introducing our rainbow world LED under glow lights for your car!
-Water proof / high quality LED strips
-Universal fit for all cars
-Includes installing hardware & wiring

-Full App Control: Bluetooth app to control color of lighting and pattern/flow of lights
Over 210 color sequences to choose from

Can set your own colors
*All Items Are Chosen Random*
Diamond

Highest tier box we have for sponsorships! The ultimate team member! Get a big of everything. Customized code to your choosing for others to use which gets you free items from us every time its used. Behind the scenes on upcoming promotions and deals from bigger vendors! Exclusive dibs on products before regular public has access to. Booth with us at car shows in 2022! Major discounts on future items that you may wish to get. Page post to promote your build!

1 - Rainbow Under Glow Light Set 
2 - Modded World Decals/Slaps
5 - Air Fresheners
1 - Jet Tag/Key-chain
****************************************************************************************************

All Sales Final
We ship out every Monday
Taking approximately 7-14 business days